Arvak Nord (North) is the biggest stud for arabian thoroughbred in North Scandinavia and the company is located in Gammelstad, jnust about on the west side of Lulea town. The sud is owned and run by Kristina and Nils-Olov Lindfors.
The passion about arabian horses was born when Kristina and her former husband Olle 1982 bought the arabian stallion Ambrose (e. Mustapha - u. Blue Amber e. Bilbao PL). He was born at Bäckåkra arabian stud in Halmstad .
The B-awarded breeding stallion Mustang ox 839 (e. Mustafar PL - u. Sweet Nicolina e. Samba GB) was bought 1983, and there was the base of stud laid. Mustang was awared at Flyinge with 42 points, where 9 points of type and trott. 1993 the stallion's value-letter was risen to AB. Mustang ox 839 had a breeding licence for breeding all horse-races. Mustans progenies were thoroughbred, registrated- och award-qualified Swedish halfbred, English arabians, shagya arabians and swedish riding ponnies.

1984 Musailima (e. Espartero PL – u. Maliki e. Mustafar PL) was bought, who become a breeding mare of high value, and she lived with us at the stud untill the age of 34 years. Musailima gave birth to six foals at the stud, all of them mares, Two of them ar living at Arvak Nord - Musette (e. Etnograf PL) and Maryska (e. Parys PL).
The daughter Renita Thurfjell is also breeding arabian horses. Renita has been earlier living in Småland and therefore her stud was named Arvak Syd (South). Renita lives right now in Solberg 30km outside Luleå.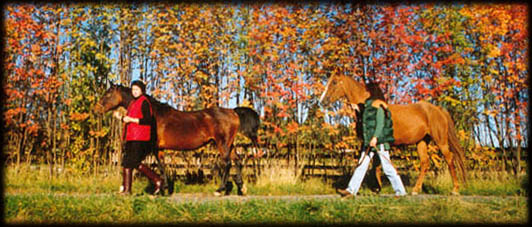 Kristina Lindfors with the brown Cerkiew (By Andrut, out of Cerekiew by Wielki Szlem) (mother of Cesium FA 332/93)
and Renita Thurfjell with the chestnut Saleta (By Etnograf, out of Saldara by Dardir) who became Swedish National Champion Mare 1988.

Photo: Anders Alm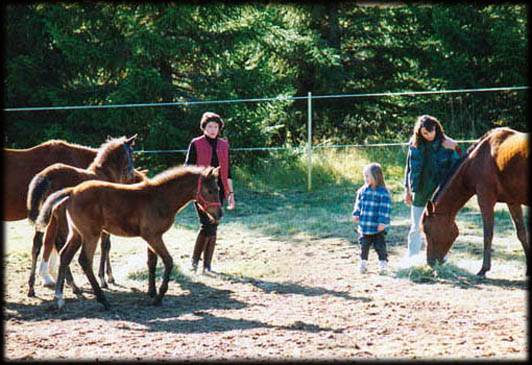 Three generations horses:

From the left - the old grandmother Musailima, born 1974 (By Espartero, out of Maliki by Mustafar PL), with her foal Mirjada (by Primo) and the grandchild Minou (by Primo, out of Musette). The mare on the right is Musette (e. Etnograf)- also Musalimas daughter.
Three generations breeders :
From the left - grandmother Kristina, the grandchild Elina and the daughter Renita.
Foto: Anders Alm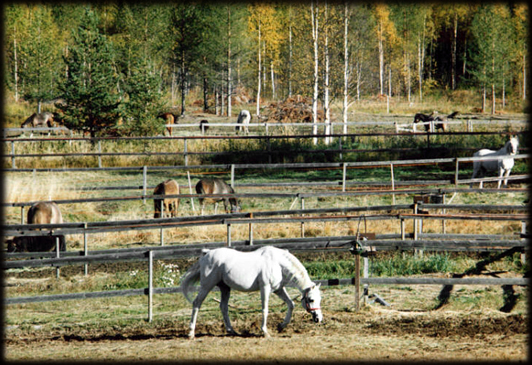 The white horse is the roan stallion Mustang ox 839 who had a breeding licence in halfbreds breeding, where he left 15 progenies..
During 1991 the stud was expanded wirh the B-awarded stallion Primo (e. Engano PL- u. Polka e. Pohaniec (PL), born at Blommeröds arabian stud. The same year Primo became a Swedish National Champion. Other exhibition conquests during 1991 was the 3rd place at the European Championchips in Aachen, and another 3rd place in Paris International, and 8 of 21 National Champions in World Championships in Paris.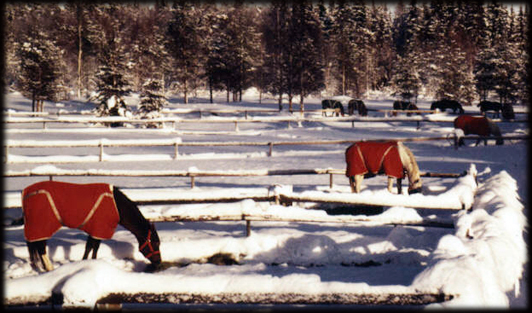 Winter at Arvak Nord. In the three nearest pens you see Ambrose, Mustang and Primo in red horsecloth . In the big pen farthest you can se mares and younghorses together. The photo i shot during a winter with a lot of snow that's why the fence looks like it reaches the hock of the horses.

During the years 1998-1999 Primo was leased to the National Polish arabian stud Janów Podlaski. During the breeding season of year 2000 Primo served at the stud Vlasakker Arabians in Holland, where he died in Januari 2001.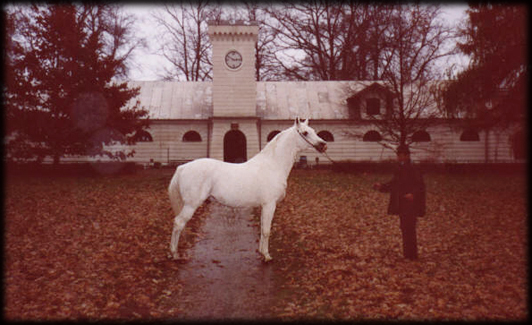 On the photo - Primo infront of the campanile of Janów Podlaski in Poland. The photo is shot 1998 when Kristina visited him in Poland.

Today the studs pride is a Swedish National Stallion-champion Etman (e. Gil PL – u. Etruria PL e. Palas SU) who is also awarded with the trophy "The Arabian Gallop Horse of the Year 1994". Etman is born at Janów Podlaski in Poland and has been competing at the racing tracks in Warszawa. Etmans origin is the best possible, his mother Etruria is a rosette-winner of highest class and has become a Polish National Champion, Europian Champion oand World Champion. His father Gil is a stallion who during 1986 became Polish National Reserve Champion Stallion. Gil serves in breeding at the Polish National Studs Kurozweki and Janów Podlaski. He has 9 starts with the result: 1, 5, 2. 1987 Gil was exported to the USA and afterwards to Holland there he served in breeding at Vlasakker Arabians. Gils father is Probat - a stallion famous in Sweden, USA and Poland. During the breeding seasons 1999 and 2000 Etman was leased for breeding to England.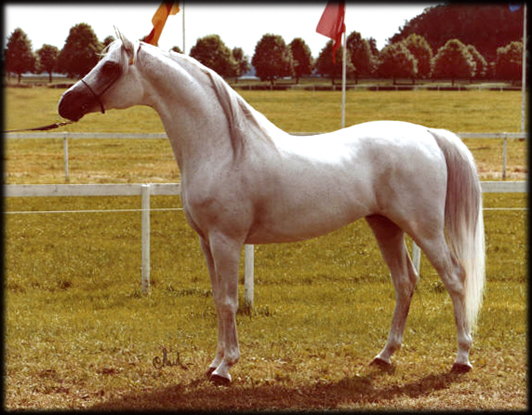 Etman PL ox, gray, born 1986, withers hight 154 cm
(By Gil PL, out of Etruria PL by Palas SU)
Mare family : Woloszka
Stallion line : Kuhailan Afas OA
Photo: Martin Larsson



Etman

is our current breeding stallion and he serves at Arvak Nord as a studhorse since the breeding season of 2005. Etman , such as our former breeding stallions Primo and Mustang, has the Nowy Dwor-stallion Comet, in his origin. The Comet-blood is demanded all over the world. Etman is also a representive of the Kuhailan Afas OA-bloodline.