Etman är son till tvåfaldiga världschampionstoet Etruria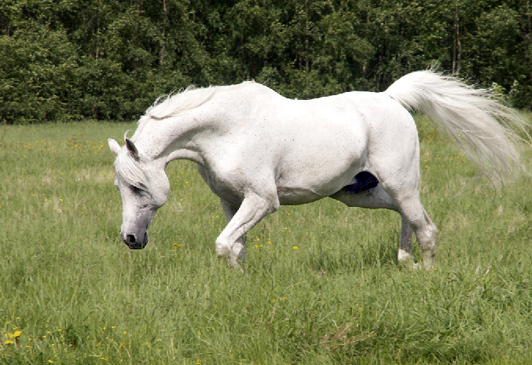 Hingsten Etman PL (e. Gil PL – u. Etruria PL e. Palas), sommaren 2005.


Om Etruria (e. Palas SU – u. Etna PL e. Faher PL)


Etruria tilldelades WAHO-trofén på Pride of Poland 2005. Stoet är född på Janów Podlaski 1975. Hon har startat vid två tillfällen på galoppbanan i Warszawa, vilket resulterade i en tredjeplacering.

I utställningsammanhang har stoet två värdschampiontitlar. Det var som 3-åring och som 7-åring, 1978 och 1982. Stoet har även erövrat titlarna polsk champion 1988, Europa reserv champion 1988 och blivit Europachampion både som junior och senior.

Etruria är World Champion Mare två gånger.

''''''''''''''''''''''''''''''''''''''''''''''''''''''''''''''''''''''''''''''''''''''''''''''''''''''''''''''''''''''''''''''''''''''''''''''''''''''''''''''''''''''''''''''''''''''''''

ETRURIA har lämnat följande avkommor:
ENARIA (e. Aloes), ETOGRAM (e. El Paso), ESPANIOL (e. El Paso), ETRUSKA (e. Aloes), ETANA (e. Aloes), ETTORIA (e. Aloes), ETMAN (e. Gil), ESPARCETA (e. Fawor), ECAHO (e. Pepton), EPIFRAZA (e. Pepton) och ETEN (e. Pepton).

Exempel på meriter hos avkommor:

Enaria (e. Aloes), sto
• Canadian Top Ten Mare
• International Aristocrat Dam

Etman (e. Gil), hingst
• Polish Bialka Stakes Winner
• Polish Sabellina Stakes Winner
• Reginal champion in Umeå in Sweden at 20-years age with 90,33 points 2006
• All Scandinavian Res. Champion Stallion with 87,17 points 1996
• Racehorse of the year 1994
• Champion in Great Britain 1999
• Swedish National Champion Stallion with 87,67 points 1992

Etogram (e. El Paso), hingst
• Polish National Champion Stallion
• Polish National Best in Show
• All Scandinavian Champion Stallion
• All Scandinavian Best in Show
• Swedish National Champion Stallion
• Norwegian National Champion Stallion
• Babolna International Champion Stallion
• Polish National Res. Champion Stallion

Etruska (e. Aloes), sto
• PTKHA Senior Champion Mare
• PTKHA Best in Show

Ecaho (e. Pepton), hingst
• Polish National Champion Stallion
• Polish Chief Sire
• International Sire of Significance

''''''''''''''''''''''''''''''''''''''''''''''''''''''''''''''''''''''''''''''''''''''''''''''''''''''''''''''''''''''''''''''''''''''''''''''''''''''''''''''''''''''''''''''''''''''''''

Etruria är mormor eller farmor åt följande hästar:

EMANDA (e. Etogram), hingst – World champion, Reserv champion Polish Nationals 2006
ESTURIA (e. Etogram), hingst – Export Belgien 2006
ALHAMBRA (e. Etogram), hingst – Klassvinnare Polish Nationals 2006
PALMETA (e. Etogram), hingst – Klassvinnare Polish Nationals 2006

ESPADERO (u. Esparceta), hingst – High-seller on Pride of Poland 2006, Export Australien, Polish Derby Winner, Polish Michalow Stakes Winner, Polish Nationals Champion Racehorse, Polish National Top Five Stallion, Polish National Top Five Colt
ESCULAP (u. Esparceta), hingst – Polish National Junior Champion Colt
EKSPORT (u. Esparceta), hingst – Brazilian National Top Ten Stallion
EUROPIA (u. Enaria), hingst – US Top Ten English Pleasure Jr Horse, US Top Ten Futurity Stallion, Scottsdale Champion Park Horse, Scottsdale Champion Liberty,
Regional Champion English Pleasure, Regional Champion Pleasure Driving, Regional Champion Park Horse, Regional Champion Sweepstakes Colt, Regional Top Five Stallion

ENAMUSCO (u. Enaria), hingst – US Top Ten Futurity Gelding, Regional Res Ch Sweepstakes Colt
EVIDANT (u. Enaria), hingst – German Stallion Licensing - Gold Medal, German Stallion Show Res Jr Champion
ENADELO (u. Enaria), hingst – Regional Reserve Champion Walk/Trot
GEDYCJA (u. Etana), sto – Canadian Top Ten Mare AOTH, Regional Champion Mare AOTH

OFW ELYJAH (u. Etana), hingst – Regional Top Ten Sweepstakes Colt
EXANADU (u. Etruska), sto– Swedish National Junior Champion Mare
EGE (u. Etruska), hingst – Swedish Regional Res Champion Stallion
EFTA ROYAL (u. Etruska), hingst – Swedish Regional Jr Champion Mare

EPTONA (u. Etruska), sto – PTKHA Senior Champion Mare
PROGNOZA (e. Etogram), sto– Swedish National Champion Mare, Swedish National Best in Show, All Scandinavian Res Champion Mare
EMERYK (e. Etogram), hingst – Norwegian Int Res Champion Stallion


''''''''''''''''''''''''''''''''''''''''''''''''''''''''''''''''''''''''''''''''''''''''''''''''''''''''''''''''''''''''''''''''''''''''''''''''''''''''''''''''''''''''''''''''''''''''''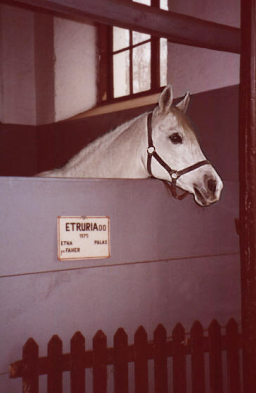 Etruria PL ox (e. Palas – u. Etna PLe. Faher PL)
Fotot är taget på Janów Podlaski när Kristina Lindfors besökte stuteriet. Foto: Kristina Lindfors


Etruria föddes 1975 och lämnade livets id den 11 juni 2006. Stoet som blev 31 år fick sitt första föl som femåring 1980 och sitt sista som 21-åring 1996. Totalt har stoet lämnat 11 avkommor. Av dessa är 6 ston, 3 är hingstar och 2 är valacker.

En 5 sidor lång artikel har Publicerats om Etruria i polska magasinstidningen Araby, nummer 4/2006. Två bilder i artikeln är på Etruria och de andra bilderna är på hennes avkommor Ecaho, Etman, Etogram och Etruska. Etmans bildtext lyder: Etman (Gil – Etruria) sire of race winners in Sweden.


I samma nummer av Araby finns ett referat från polska auktionen 2006. I texten med rubriken Janów 2006 National August finns bild på Etrurias barnbarn Espardero med bildtexten: Espardero – the highest selling horse.